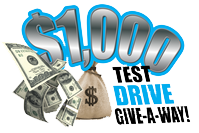 win $1000 in our Test Drive Giveaway!
Just come in and test drive any vehicle on the lot and you can be entered to
win $1000 in our Test Drive Giveaway!


There is a new winner chosen every month.
The next winner could be you!


by one of our friendly associates
to schedule your test drive at your convenience.

Meet our winners.

CONTEST RULES
Entries limited to one per month; Prize winning is not transferable; Employees of the dealership or its advertising agency and members of their immediate families are ineligible to participate; Results of the drawing are final; The contest winner isresponsible for disclosing the value of the prize as income on all applicable local, state and federal income tax returns and for paying all applicable local, state and federal taxes. $1,000 test drive only at Burke Motor Group. Must be 21 years of age or older. To enter simply test drive ANY car at the dealership. Must complete registration prior to test drive. There will be one winner announced monthly. One winner will be drawn at the beginning of each month at a date and time to be selected by dealership for the prior months entries. Entries are only applicable for the current month and are not carried over the next. Each applicant will be notified by email of drawing date and time. Winners of each monthly drawing will be asked by Burke Motor Group to use their name and asked to appear in the monthly commercials and advertisements. Winners will also be required to complete a W-9 form prior to receipt of any prize. Winners not eligible to win test drive event again for 1 year. No purchase necessary, see salesperson for complete details.