Burke Motor Group launched the Burke Promise one year ago to reaffirm our over century of commitment to our customers. With the Burke Promise Rewards Program, you'll get seven complimentary services including maintenance, tires, wheels, dent and ding protection, loaners, car washes and more - all at no additional cost. You will have your own website that is designed to assist you in managing your vehicle service records. Here you'll be able to schedule service appointments, contact our managers directly with questions, receive discount coupons and find important information concerning your vehicle.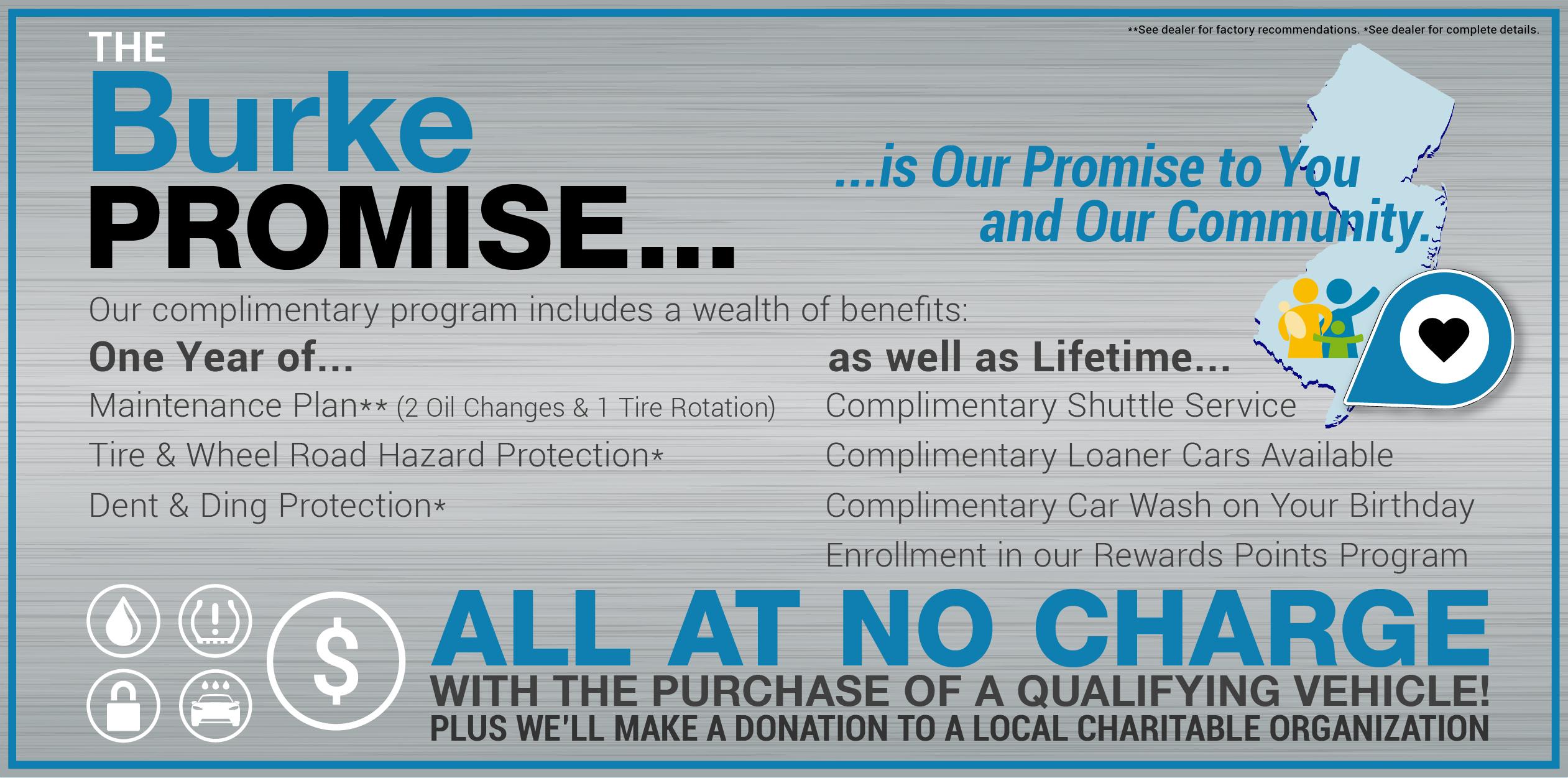 Burke motor GROUP WILL MAKE A DONATION FOR EVERY VEHICLE PURCHASED TO A HOMETOWN CHARITy SELECTED BY YOU.

In addition to providing exceptional service and standing behind our customers' vehicles, we are excited to further the commitment to our community. Burke Motor Group continues the mission of supporting our community, and through the Burke Promise
will make a donation for every vehicle purchased or leased
to one of four hometown charitable organizations selected by our customers.
Thanks to our wonderful customers, we have chosen our next four hometown charitable organizations to be the recipients of our Burke Promise donations through December 31, 2022.
Burke will be selecting new charitable organizations annually to be of the most benefit to the community at large.
Since 2019, The Burke Promise Initiative has benefited AMVETS Post #21, Lazarus House Ministries, Humane Society of Ocean City, Ancient Order of Hibernians, Avalon Lions Club, Beacon Animal Rescue, Disabled American Veterans Chapter #44, Holy Redeemer Health System of NJ Shore, Cape May County Chamber of Commerce Education Foundation, Big Brothers Big Sisters of Atlantic & Cape May Counties, Cape Hope, and Heroes on the Water - South Jersey.